Tsiionkwanonhso:te Long-Term Care Facility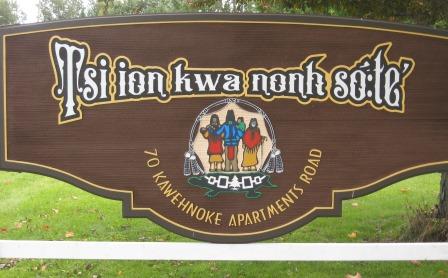 It is our tradition and belief that our elders are to be cared for as if they were our own.
Our Home's Administration Team

:

Barry Lazore, Administrator
vincent.lazore@akwesasne.ca

Sonja Sylvester, RN/Director of Care
sonja.sylvester@akwesasne.ca

Evelyn Brunet, RN/MDS Coordinator
evelyn.brunet@akwesasne.ca

Autumn Jock, Food Service Supervisor/Housekeeping & Laundry
autumn.jock@akwesasne.ca

Dawn Mitchell, Administrative Assistant/Ward Clerk
dawn.mitchell@akwesasne.ca

Lorna Francis, Finance Clerk
lorna.francis@akwesasne.ca
---
Our History
Tsiionkwanonhso:te, which means "our home", is a 50-bed long term facility that has been serving the Akwesasne Mohawk Territory and surrounding communities since 1994. Tsiionkwanonhso:te offers many different services and programs to accommodate each residents needs.
Our Mission
"Contributing to improving the quality of life of adults, elders and families by delivering programs and services to sustain their health, social, cultural and life enrichment needs. We deliver services in a warm and caring, fun and safe, home-like environment. We are committed to working cooperatively and professionally to fulfill the diverse needs of our Mohawk people, our partners and regulatory bodies."
Nursing & Medical Services
Our professional providers are fully certified and qualified to offer health care to our residents. Our team includes a physician, RNs, RPNs, PSWs 24/7, restorative care aide, mental health, and pharmaceutical professionals. We offer massage therapy, physiotherapy, and occupational therapy for residents. Some additional services are available (such as an esthetician, hairstylist, satellite TV subscription, phone/internet subscription) as an 'out of pocket' expense.
Recreation & Leisure Programs
Tsiionkwanonhso:te staff offers a variety of Activity programs to meet the cognitive, spiritual, emotional, physical, and social needs of the current resident population. Residents and their caregivers are welcome to participate in any or all of the scheduled activities. Activity programs are held in the South or West Wing common areas and/or outdoors within a secure area overlooking the beautiful St. Lawrence River. Note: COVID-19 precautions affect group activities and the number of participants.
Examples of activities include: Holy Mass services are offered on the second Thursday in the activity room. Bingo games, toss games, trivia, puzzles, special events to celebrate anniversaries and holidays.
One-to-one activities include: reminiscing, music & memory (sing-a-longs), adult coloring, modified card games.
Volunteers (of all ages) bring the community into Our Home. Once a volunteer application is completed to indicate the individual's availability (and a clear Criminal Reference Check is submitted), an activity schedule is created and posted for residents to view.
During the pandemic, virtual visits were scheduled with family members unable to travel or come into Our Home. These video calls were scheduled seven days a week.
Food Services
We have a registered dietitian, nutritious meals and snacks, and monthly special event meal activities.
---
Residents' Council
September 11 to 17, 2023
RC Week is a week to celebrate all RESIDENTS, as every person living in your home is part of the Residents' Council, regardless of whether they attend your monthly meeting. RC Week is also the perfect time to recognize Residents' Council supporters – like your Council Assistant and home Administrator, and the people you collaborate with throughout the year, such as Family Council and community members.
Thank you for everyone who participated in RC Week celebrations and contests. View the slides to see how long-term care home Residents' Councils celebrated RC Week 2022!
Residents' Bill of Rights
The formation of residents' rights afforded to all persons living in long-term care homes, began in the early 1950's and grew to 29 distinct rights. The Ontario Residents' Bill of Rights is embedded in our provincial legislation, Fixing Long-Term Care Act (FLTCA), 2021, and accompanying Regulations (O. Reg. 246/22)
All long-term care homes in Ontario (including those formerly known as nursing homes, municipal homes for the aged, and charitable homes) are governed by the Fixing Long-Term Care Act. The requirements in the LTCHA ensure that residents of these homes receive safe, consistent, and high-quality resident-centered care in settings where residents feel at home, are treated with respect, and have the supports and services they need for their health and well-being.
Residents' Councils review and promote the Residents' Bill of Rights. Access the English Residents' Bill of Rights here.
Family Council
A Family Council is a group of family members and friends, of the residents living in a long-term care home (LTC), who gather together for peer support, education, and to improve the experiences of all who live in long-term care.
For more information, check the Family Councils of Ontario website: https://fco.ngo/family-councils-101.
You are always welcome and encouraged to start a Family Council at Tsiionkwanonhso:te. If you need assistance with administering a mailing list for contacts (by Canada Post or email), be sure to reach out to any of the Admin staff for guidance.
---
DEPARTMENT OF HEALTH PROVIDES UPDATED LONG-TERM CARE PROTOCOLS FOR COVID-19 POSITIVE CASES
The Mohawk Council of Akwesasne's Department of Health (DOH) is providing the community with updated long-term care (LTC) protocols for COVID-19 positive cases. The updated protocols have been provided by Ontario's Ministry of Health. Please note that any visitor or staff of the LTC that is symptomatic is not permitted entry. Any staff or visitor who becomes symptomatic while in the LTC will be asked leave immediately and directed to self-isolate.
When Staff or Visitors Test Positive for COVID-19
Any staff or visitor who tests positive while they are in the LTC must leave the facility immediately and are directed to self-isolate

Staff and visitors who test positive for COVID-19 are not permitted to return to the LTC until 10 days after symptom onset or date of positive specimen collection (test), whichever is earlier, and provided they have no fever and other symptoms have been improving for 24 hours (48 hours if gastrointestinal symptoms).
Direct Care to a Resident with Suspected or Confirmed COVID-19 Case
Wear the recommended personal protective equipment (PPE)

Wear a fit-tested, seal-checked N95 respirator (or approved equivalent). Staff who are not yet fit-tested for an N95 respirator should wear a well-fitted surgical/procedure mask or a non-fit tested N95 respirator (or approved equivalent)

Wear appropriate eye protection (eye goggles, face shield, or safety glasses with side protection)

Gown

Gloves
Environmental Cleaning and Disinfecting
Ensure regular environment cleaning of frequently touched surfaces
All common areas and high-touch surfaces are cleaned and disinfected at least once a day
If you have any questions regarding the updated long-term care protocols for COVID-19 positive cases, please contact the Department of Health at 613-575-2341 ext. 3300, the Tsiionkwanonhso:te Long-Term Care Facility at 613-932-1409, or the Iakhihsohtha Lodge at 613-575-2507.
VISITING PROGRAM
APPLICATION FOR ADMISSION
2020-03-ADM-APPLICATION-FINAL

PRE-ADMISSION SCREEN: FUNCTIONAL ASSESSMENT


2020-FUNCTIONAL-ASSESSMENT-TOOL.ADM_

---
POWER OF ATTORNEY FOR PERSONAL CARE
POA-CARE

CONTINUING POWER OF ATTORNEY FOR PROPERTY
POA-PROPERTY

---
For more information or support, please contact Josée at 613-932-4914 ext. 202 or at josee.desrocherleduc@alzheimer-cornwall.ca.