Akwesasne Justice Department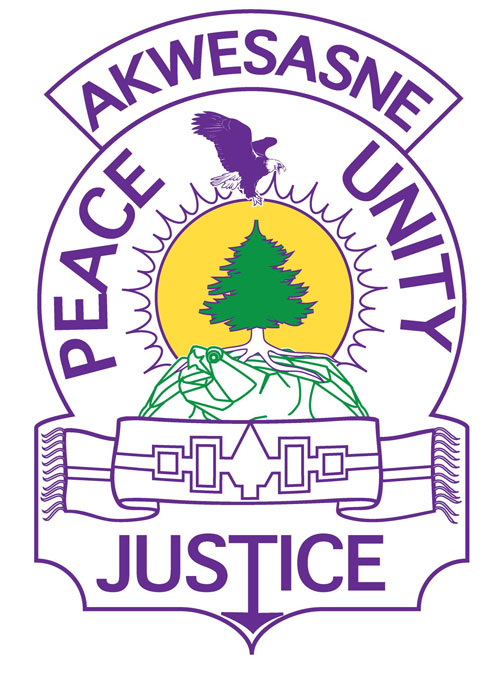 "Equity, fairness and respectfulness."
Mohawk Council of Akwesasne's Justice Department

is located at the Angus Mitchell Memorial Building, 15 Akwesasne St., Akwesasne, QC H0M 1A0
Phone:

613-575-2250 ext. 2400 |

Fax:

613-575-1726 |

Open:

8 a.m. to 5 p.m. – Monday to Friday

The Akwesasne Justice Department employs the principle of natural justice to empower the community to safeguard collective rights, primarily, and individual rights (secondary) for Akwesasronon, while remaining respectful of the community's heritage and culture.
A First Nation Justice System
A first in Canada, the Mohawk Council of Akwesasne designed a First Nation Justice System based on customary laws which incorporate traditional restorative principles in the three main responsibilities of government: Law-Making; Adjudication; and Enforcement.
Akwesasne Court Law
Akwesasne Court Procedures
Council of Elders/Appellate Division
Compliance and Conservation enforcement of Akwesasne Laws.
Legislative Services
34 Akwesasne Laws Registered With Akwesasne Law Registry
1 Laws currently being amended

Akwesasne Election Law – Amendment Information Here

5 Laws currently being developed:
35 additional laws are needed to meet community priorities
Judiciary: Two Justices
Prosecutor and Defense Counsel
As an inherent right court, the judiciary is overseen by the Akwesasne Review Commission to ensure judicial independence.
The Akwesasne Tekaia'torehtha:ke Kaianerenhsera (Akwesasne Court Law) sets out the principles, powers, and authorities of the court and reflects the values of the Mohawks of Akwesasne and the principles of Sken:nen (peace), Kasastensera (strength) and Kanikonri:io (a good mind), respect, fairness, and natural justice.
The Akwesasne Court Law is enacted in exercise of the inherent right of self-government of the Mohawks of Akwesasne as recognized and affirmed by the Royal Proclamation of 1763; section 35 of the Constitution Act 1982; and, by the United Nations Declaration on the Rights of Indigenous Peoples.
Services:
Adjudication of Akwesasne Laws
Court-appointed defense services
Peace bond Hearings
Mediation Services
Appeals
Community Service
Akwesasne Community Justice Program
In 2004, a Crown Protocol agreement was established between MCA, DOJ Quebec, and MAG Ontario for diversion and community justice services.
Services:
Ministry of Children and Youth Services

Youth Justice Worker:
(Youth Personal Service Orders)
Extra-Judicial Measures (since 2012) = 84 clients
Extra-Judicial Services (since 2012) = 63 clients
Native Inmate Liaison Officer Program
Native programming, services, and counselling at the Ottawa Carleton Detention Centre.
Culturally-relevant programming
Sweat lodge on site
Smudging
Referral services
---
Akwesasne Justice Department Programs
Legal Services
Legislative Development/Services
Ontario Probation
Quebec Probation
Akwesasne Justice Department Services
Court Worker Services
Firearms Safety Course
Jury Duty Notices
Complaints on CBSA
Mediation Services
Criminal Diversions
Gladue Writer
Cultural Sensitivity Training
Legislative Services
Legal Services
Paralegal Services
Native Counselling Services
---
Forms
---
Video
Iatathróna Raotiientáhtsera "Couples Property" Law

---
Contact
Acting Director: Cactus Cook Sunday
Contact Info: 613-575-2250 • Ext. 2400
Fax: 613-575-1726
Send Email
---
Recent News