Meet the Chiefs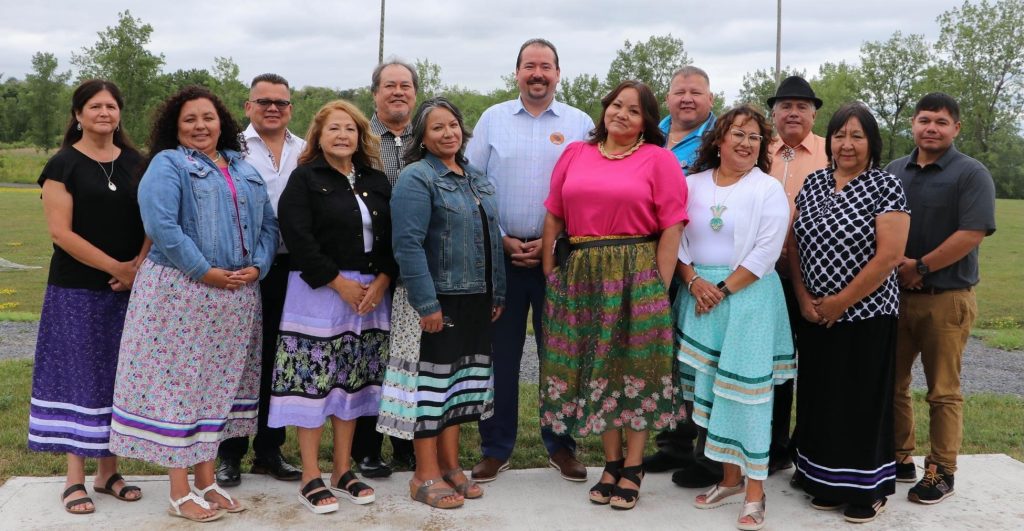 Back row (left to right): Jacqueline "Jackie" Benedict, Edward Roundpoint, Vincent "Vince" Thompson, Abram Benedict, Dwayne Thomas, Tim "Dooley" Thompson, Ryan "Duck" Jacobs.

Front row (left to right): Julie Phillips-Jacobs, Cynthia "Cindy" Francis-Mitchell, April Adams-Phillips, Vanessa Adams, Sarah Lee Sunday-Diabo, JoAnn Swamp.
---
On July 9, 2021, the Mohawk Council of Akwesasne held its official swearing-in ceremony for the 2021-2024 Grand Chief & Council at the A'nowara'ko:wa Arena Pavilion. Justice Stephanie Cross conducted the ceremony as the newly-elected chiefs took their oaths of office. Nia:wen to all those who helped make this event possible!
Congratulations to the 2021-2024 Council Chiefs:
Grand Chief
Abram Benedict
Kawehno:ke District Chiefs
Vanessa Adams
Jackie Benedict
Edward Roundpoint
Vince Thompson
Kana:takon District Chiefs
Cindy Francis-Mitchell
Ryan Jacobs
Julie Phillips-Jacobs
Tim Thompson
Tsi Snaihne District Chiefs
April Adams-Phillips
Sarah Lee Sunday-Diabo
JoAnn Swamp
Dwayne Thomas