Meet the Chiefs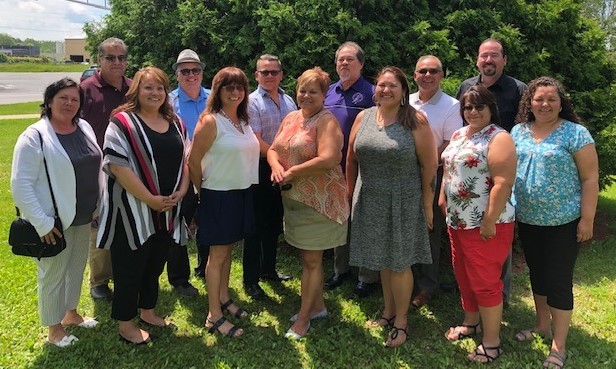 Back row (left to right): Joe Lazore, Tim "Dooley" Thompson, Edward Roundpoint, Vince Thompson, Darryl "Kermit" Lazore, & Abram Benedict.

Front row (left to right): Theresa Jacobs, Vanessa Adams, Connie Lazore, Carolyn Francis, Tobi Mitchell, April Adams-Phillips, & Julie Phillips-Jacobs.
---
2018-2021 MOHAWK COUNCIL TAKES OATH OF OFFICE
On Friday, July 13, 2018, the thirteen chiefs who will serve the Akwesasne community for the next three years as the 2018-2021 Mohawk Council were officially sworn into office during a ceremony at the A'nowara'ko:wa Arena on Kawehno:ke (Cornwall Island). Following the MCA General Election on Saturday, June 30, 2018, there are five new faces taking on Council positions, along with several re-elected chiefs. The new Council was welcomed into office in an uplifting ceremony attended by family members, friends, community members and chiefs.
Jordan Wapass, the Executive Director of the Mohawk Council of Akwesasne, welcomed the crowd and Council, and he noted how the role of an elected leader carries with it "great responsibility." Wapass also shared words of encouragement, along with wise words from the late Gordon Tootoosis. He noted, "Leadership is about submission to duty, not elevation to power." Wapass believes that the community elected an "impressive cohort of leaders who will quite simply, get the job done."
The newly elected 2018-2021 Council is comprised of one Grand Chief and twelve District Chiefs.
Grand Chief Abram Benedict is a resident of Kawehno:ke and has served on Council as a Kawehno:ke District Chief for three terms and as Grand Chief for one term, for a total of twelve years prior to this election.
The twelve District Chiefs, four for each of the three Akwesasne districts, include:
Grand Chief
Abram Benedict
Kawehno:ke District Chiefs
Vanessa Adams
Carolyn Francis
Edward Roundpoint
Vince Thompson
Kana:takon District Chiefs
Theresa Jacobs
Darryl "Kermit" Lazore
Julie Phillips-Jacobs
Tim "Dooley" Thompson
Tsi Snaihne District Chiefs
April Adams-Phillips
Connie Lazore
Joe Lazore
Tobi Mitchell
Justice Stephanie Cross from Kahnawa:ke conducted the Oath of Office to each Council member before having them sign pledges, which affirmed the roles and responsibilities of a chief.
Grand Chief Abram Benedict, acknowledged past and current Council members during his speech and provided insight as to the direction he hopes to see the MCA, Council and community move towards.
"In 2006, when I took the oath of office for Kawehno:ke District Chief, I never would have thought‒I still don't believe‒that I would become Grand Chief and then take a second term as your Grand Chief. I want to thank each and every one of you for the support you have shown me and all of our Councils that I have been honored to be a part of. I will continue to provide strategic leadership to our council, embrace their strengths and challenge their weaknesses. I will continue to lead by example, because that is what's expected of your Grand Chief. I want to thank the amazing workforce of the MCA that serves the vibrant community of Akwesasne. Niawenko:wa to all the tireless workers that work every day to serve our community. Since 2006, I have have the privilege to work alongside, and then lead, many dedicated individuals that work hard to serve Akwesasronon. Your committed to grow our community, has helped me to grow as a person, and I want to thank you for that."
Congratulations, good luck and best wishes to the new Mohawk Council of Akwesasne Chiefs.