AKWESASNE LEGISLATIVE COMMISSION — NOTICE OF DECISION
Interpretation of the Akwesasne Election Law (2019) s. 16.2(a) and s. 16.3
The Mohawk Council of Akwesasne has established an Akwesasne Legislative Commission to oversee, receive community input and provide community guidance and direction in the development of Akwesasne Laws. They are also the delegated authority to make interpretations of Akwesasne Law – a process that is outlined in the Akwesasne Legislative Commission Regulation Section 8. Interpretation of a Law.
The Akwesasne Legislative Commission received a request for clarification of a provision of the Akwesasne Election Law (2019) from Grand Chief on November 19, 2019. These sections pertain to Removal from Office of a District Chief, and focusing on who is able to provide a valid signature on a petition to remove a District Chief from Office. The Akwesasne Legislative Commission also received a directive dated and received on November 26, 2019 from the Akwesasne Court on the same matter.
The Akwesasne Legislative Commission Chairperson identified a three (3) member panel to conduct the review. This panel met on November 22, 2019 and November 26, 2019 to review supporting documentation. They met on December 5, 2019 to conduct interviews with Justice Administration who were in place at the time when changes to the Akwesasne Election Law were made.
A decision was made on December 9, 2019 providing clarification on the Akwesasne Election Law (2019) with the following conclusion of the Akwesasne Legislative Commission review:
"We believe that the intention of the Working Task Group in drafting s. 16.2(a) may have been:
'A petition requesting the removal of a District Chief is signed by an equal number of votes plus one from the official total number of votes he/she received on election/by election day of eligible voters from that District Chief's district and delivered to the Council at a duly convened General Meeting.' (bold indicates missing text)
However, the actual wording is clearly written as being open to signatories from the community who are eligible to vote from all Districts."
For a full copy of the decision and the documentation considered by the Akwesasne Legislative Commission as part of this review, contact the registrar for the Akwesasne Law Registry:
Kyrie Ransom
Justice Coordinator
Akwesasne Justice Department
613-575-2250 ext. 2403
kyrie.ransom@akwesasne.ca
Angus Mitchell Memorial Building
15 Akwesasne Street
Akwesasne, QC H0M 1A0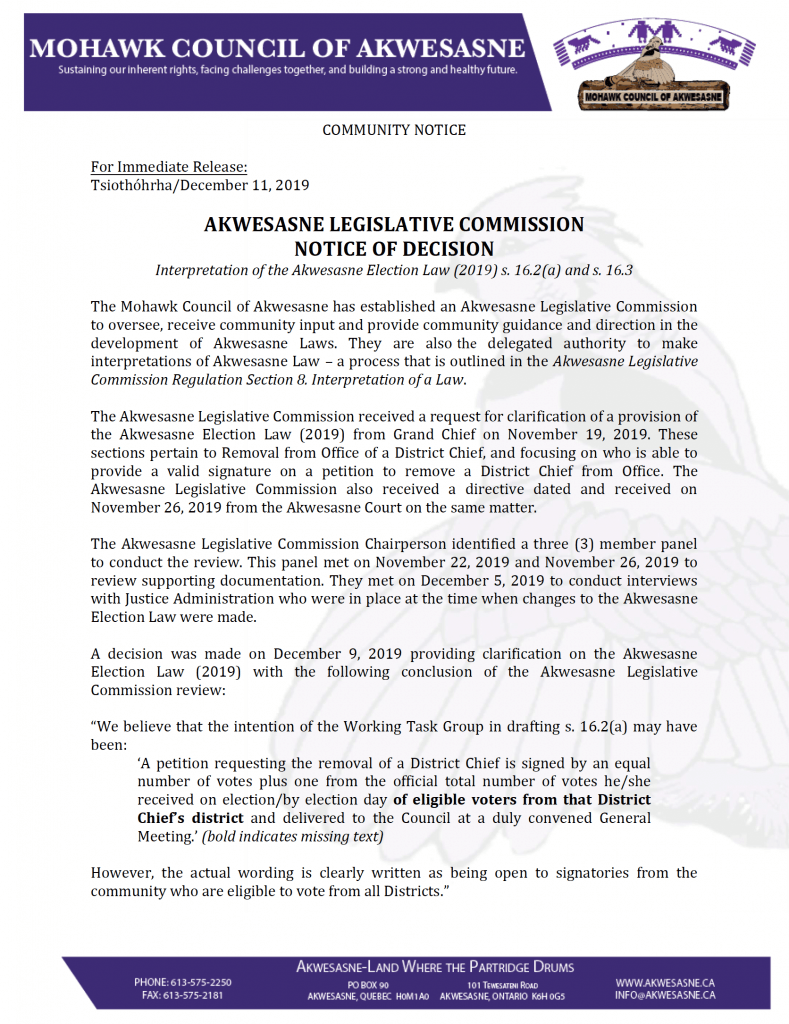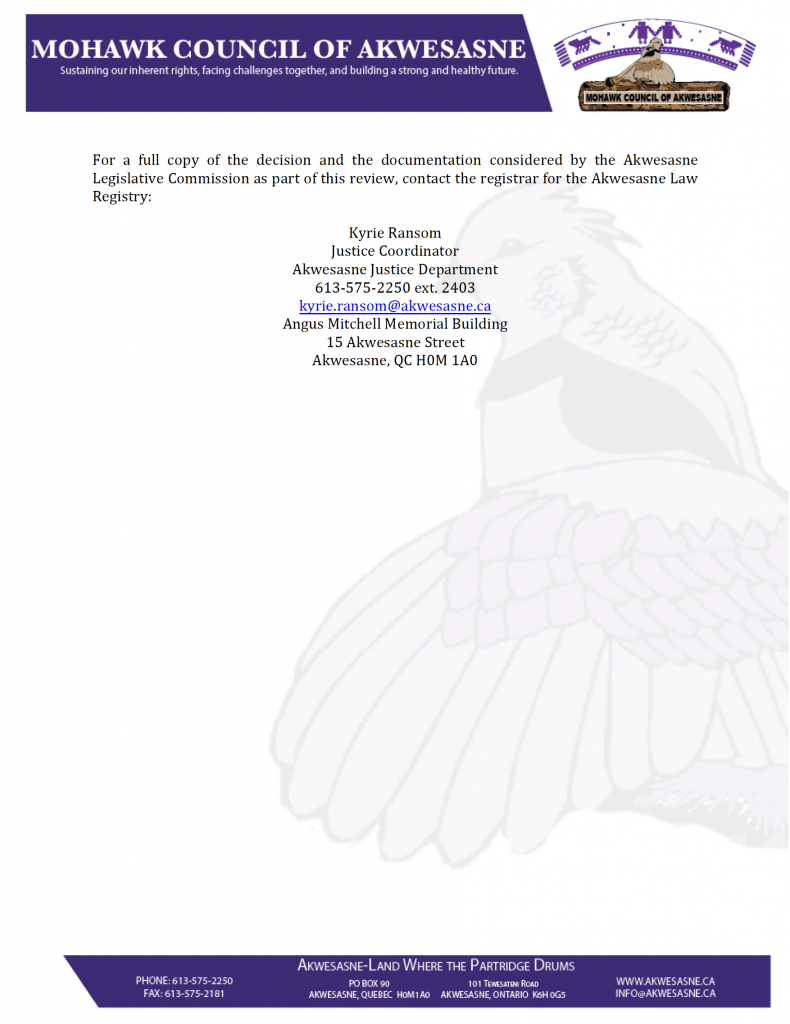 ---
AKWREV-2019-01-Decision