ALL MY RELATIONS/NE NE AKWÉ:KON IAKWATATENÓNHKWE' – FRANCO-INDIGENOUS INTERCULTURAL EXCHANGE PROJECT LAUNCH
In collaboration with its partners and collaborators, Ahkwesahsne Mohawk Board of Education, Ahkwesahsne Mohawk School, Conseil des écoles publiques de l'Est de l'Ontario, Conseil scolaire district catholique de l'Est ontarien, City of Cornwall, Ahkwesahsne community, ACFO-SDG is proud to launch the brand new community project entitled: "All my relations / Ne ne akwé:kon iakwatatenónhkwe' – Franco-Indigenous intercultural exchange", funded by Canadian Heritage. Intended for students of the intermediary attending École secondaire catholique La Citadelle and École secondaire publique L'Héritage as well as students in grades 7 and 8 at Ahkwesahsne Mohawk School, this initiative seeks to create meaningful and lasting ties between young people while collaborating in the creation of a major artistic work to be unveiled in June 2020.
In recent years, the region's Francophone school boards have been developing their knowledge of the perspectives, cultures and traditions of the founding peoples of Turtle Island and thus helping their students to experience authentic activities with organizations and individuals in Aboriginal communities. A team, representing all the schools and school boards involved, is preparing the various awareness and cultural exchange activities that the student groups will experience. Finally, throughout the year, students will experience moments of cultural awareness for each group and become aware of the similarities and differences between Francophone and Mohawk cultures.
"ACFO is proud to be associated with this great project, which will allow young Francophones in the Cornwall community to forge meaningful ties with young people in the Ahkwesahsne community," said Dianne Poirier, President of the Association canadienne-française de l'Ontario of Stormont, Dundas & Glengarry.
Director of Education, Donna Lahache, when asked if AMBE students could participate in this project readily agreed. She then asked retired educator Deborah Terrance to assist in planning this worthwhile endeavor for our young people.
Deborah Terrance, representative of the Ahkwesahsne Mohawk Board of Education and co-coordinator of the project, said she was very pleased with the collaboration in the project planning: " When our young people have a chance to meet and get to know one another, it's a positive step in the spirit of reconciliation."
An umbrella organization of the Francophonie of Stormont, Dundas and Glengarry, ACFO-SDG is the hub of innovative community and cultural services within a proud and diverse community. The organization's fields of action are welcoming, mobilization, outreach and celebration, community consultation, community economic development, representation and collaboration with a variety of partners. ACFO-SDG warmly thanks the partners and collaborators of this initiative.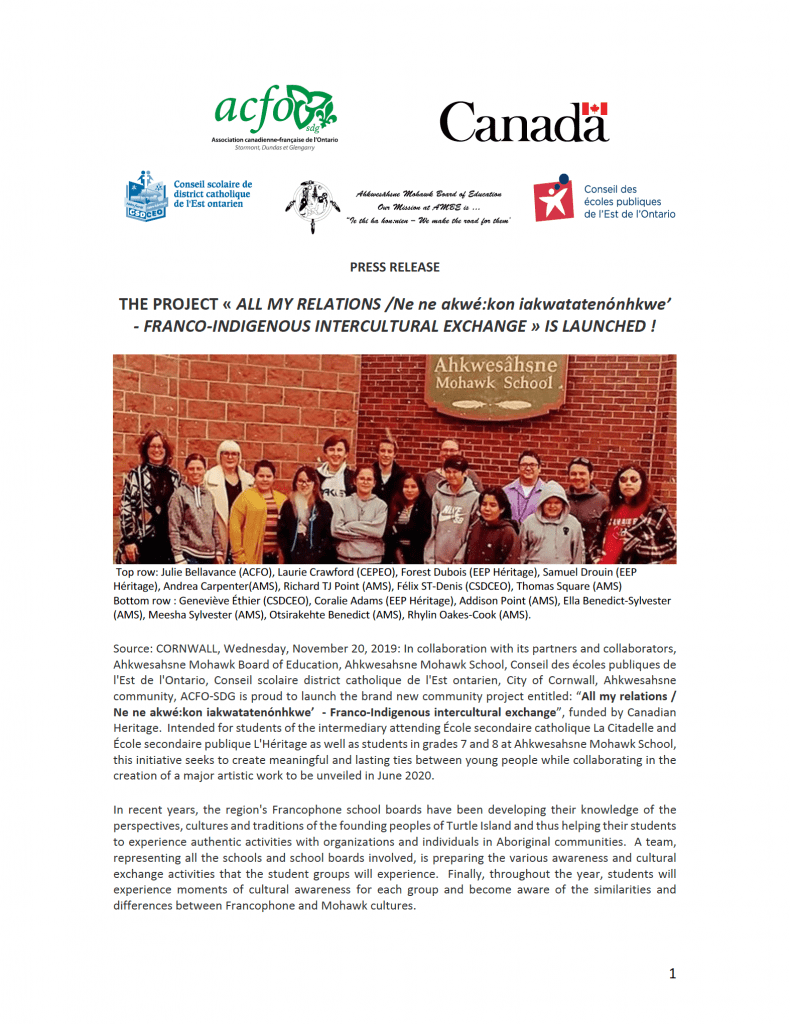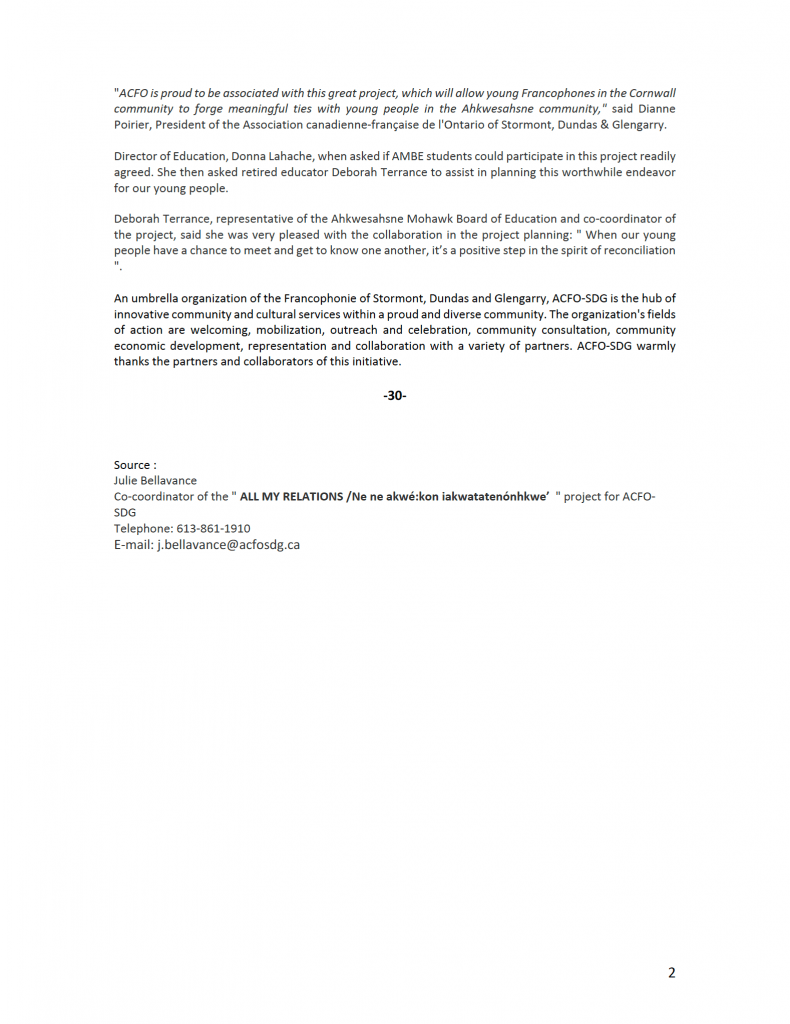 ---