Community Cooling Stations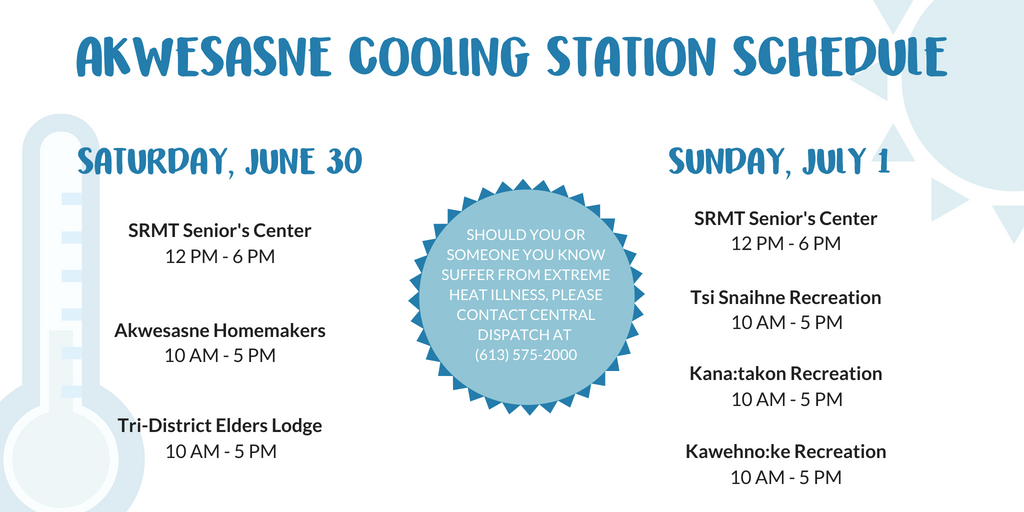 Over the July 1st weekend, Akwesasne is expecting excessive heat warnings with high temperatures. Temperatures will remain at, or close to heat warning criteria throughout the long Canada Day weekend and going into the beginning of next week.
The Saint Regis Mohawk Tribe and the Mohawk Council of Akwesasne and will be establishing cooling stations to ensure community members can be safe out of the heat.
SOUTHERN PORTION – The SRMT Senior's Center will be open as a cooling station Saturday, June 30th, and Sunday, July 1st, from 12:00 to 6:00 p.m. both days.
TSI SNAIHNE – On Saturday, June 30th, the Akwesasne Homemakers in will be open from 10:00 a.m. to 5:00 p.m.
KAWEHNO:KE – On Saturday, June 30th, the Tri District Elders Lodge will be open from 10:00 a.m. to 5:00 p.m.
KANA:TAKON, TSI SNAIHNE and KAWEHNO:KE – On Sunday, July 1, 2018, all recreation centers will be open to community members to act as cooling stations from 10:00 a.m. to 5:00 p.m.
In the interim and as a precautionary measure, we kindly ask that you:
Find air conditioning with a family, friend or a neighbor.
Avoid strenuous activities.
Watch for signs of heat illness.
Wear light clothing.
Check on family members and neighbors, particularly elders.
Drink plenty of fluids.
Watch for heat cramps, heat exhaustion and heat stroke.
Never leave people or pets in a closed car.
Should you or someone you know suffer from extreme heat illness, please contact Central Dispatch at (613) 575-2000.
For more information on the SRMT Senior Center cooling station please contact them at (518) 358-2963 or Derek Comins at (518) 651-0636.
For more information about MCA cooling stations please contact Regina Jacobs at (613) 577-1275.
ALWAYS REMEMBER TO CHECK ON YOUR ELDERS! Please stay safe and enjoy your Canada Day weekend.