HAVFD RECEIVES NEW FIRE TRUCK HONOURING MMIWG
On Wednesday, August 23, the Mohawk Council of Akwesasne's Department of Infrastructure, Housing and Environment (DIHE) presented a cheque to Fort Garry Fire Trucks for the manufacturing and delivery of a brand new fire engine to the Hogansburg Akwesasne Volunteer Fire Department.
Fire Chief Issac McDonald accepted the beautiful new truck on behalf of HAVFD and Station #3. The fire engine is adorned with imagery to raise awareness and show support of Missing & Murdered Indigenous Women & Girls (#MMIWG).
MCA would like to extend a big nia:wen/thank you Fort Garry Fire Trucks, Wraptors Decals, Joe King, and Long Graphics for all of their work on this venture.
This project was made possible through funding by Indigenous Services Canada.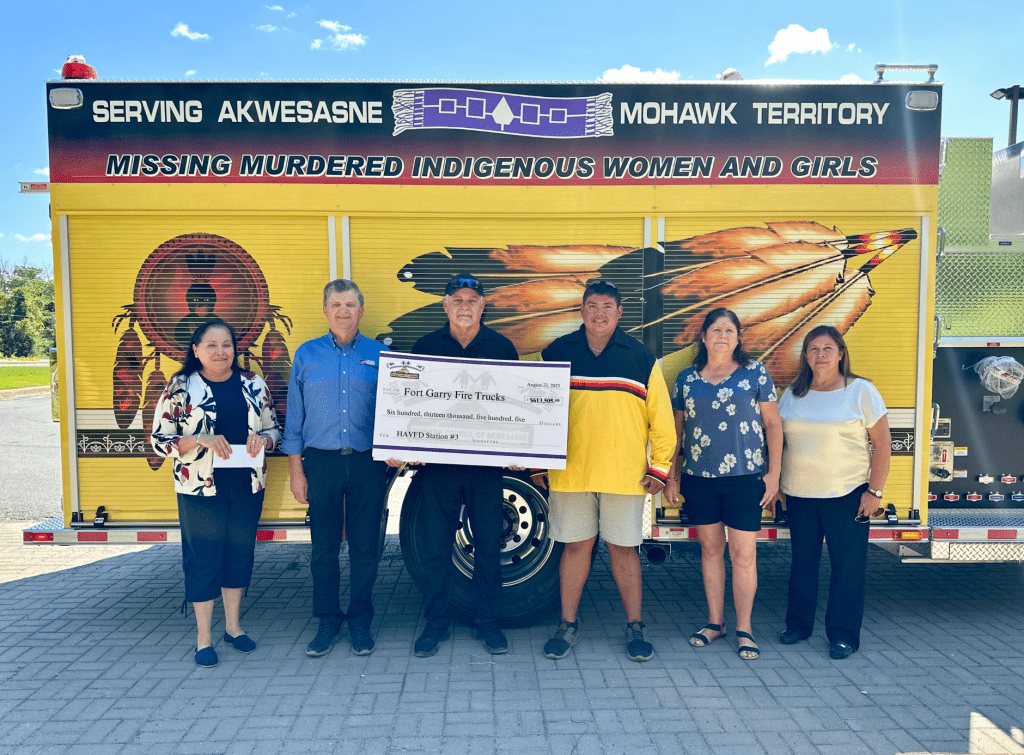 Pictured (left to right): DIHE Associate Director Charmaine Caldwell, Peter Somerton and Barry Carpenter of Fort Garry Fire Trucks, HAVFD Fire Chief Issac McDonald, Kawehno:ke District Chief Jackie Benedict, DIHE Executive Assistant Theresa Jacobs.