MCA REPORTS SIX NEW CASES OF COVID-19
For Immediate Release:
Kentenhko:wa/November 9, 2020
The Mohawk Council of Akwesasne's Community Health Program reports that there are six (6) new active cases of COVID-19 in the northern portion of the community as of Nov. 9, 2020. This brings the total active cases in MCA's jurisdiction to 10, with 16 cases overall since the beginning of the pandemic. Six (6) cases have been resolved.
Cases of COVID-19 continue to climb in areas around us, including in the Eastern Ontario Health Unit's jurisdiction (EOHU.ca) and St. Lawrence County, New York where a state of emergency was declared this week. Akwesasne and Cornwall remain in a state of emergency as well. Social distancing and avoiding unnecessary travel is vital at this time.
MCA also urgently reminds the community of the importance of isolating when awaiting COVID-19 test results. Family and friends can offer to assist isolating families by dropping off food and supplies and checking in via technology. The length of isolation required is dependent on each individual situation; confirm with your healthcare provider as to when isolation is no longer necessary.
We understand that COVID-19 has created many difficulties and we all wish to resume our normal lives. Please remain diligent so that we can stop further spread of COVID-19 in our community. Avoid any unnecessary travel and social gatherings and always wear a mask in public locations. We can all help to keep Akwesasne safe.
If you need to be tested for COVID-19, please make an appointment with MCA's Community Health Program by calling 613-575-2341 Ext. 3220. Community members can also access free testing through the Saint Regis Mohawk Tribe. Check their website, www.srmt-nsn.gov for testing dates.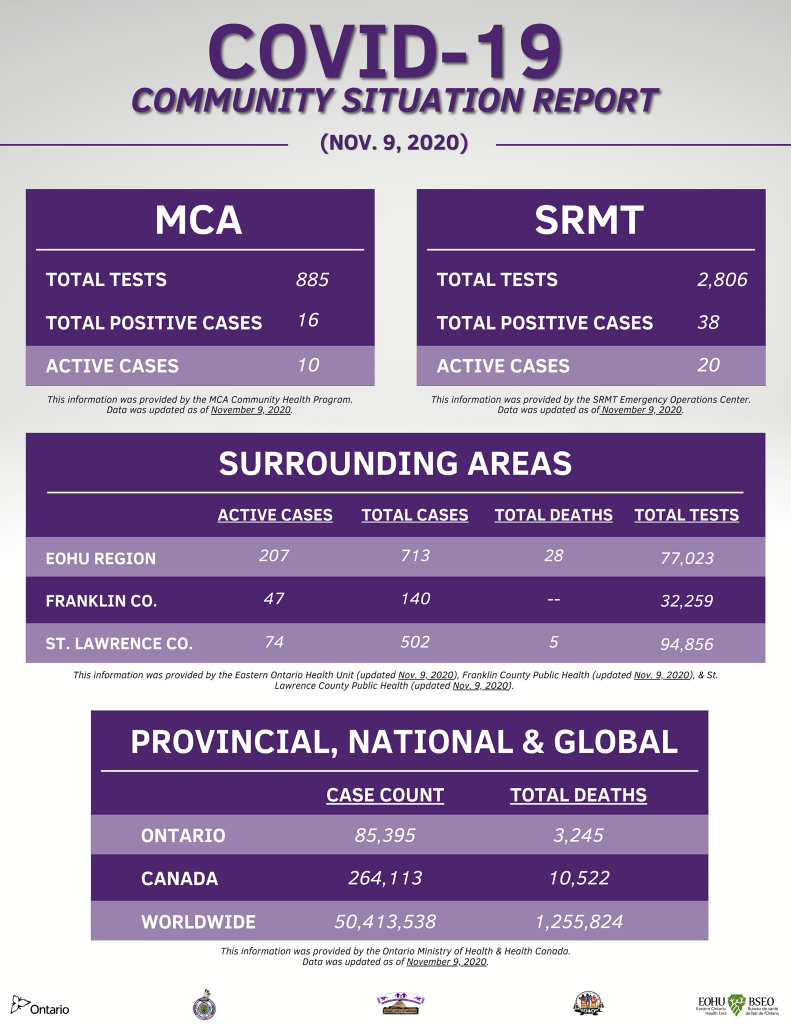 110920-MCA-NOTICE-MCA-Reports-Six-New-Positive-Cases-of-COVID-19